Greetings,
Welcome to the Cooper studio, Jefferson, Iowa.
It's been a fine Monday, and a good way to start out the week that will include the "first art fair of the season". (Deb B, I am still waiting for that magic call from your fine institution saying you need your favorite wait-list artist on Saturday) And definitely, we will be hanging some paintings in Des Moines, Iowa this weekend, Sunday, at Valley Junction Art Market.
Thinking about the first art fair of the summer, I would guess that most of you don't realize that it's possible to put an entire exhibit of paintings in a Chevy Venture. Well, it is. May I say that the title up at the top of this, is key? Everything in it's place. Absolutely.
Just a couple of times, I've contemplated a larger "art van". One that would allow me to miss-pack an item or two. And then I take a quick look at artists that DO deal with a larger van. Heck, some do it with trucks. And as I gaze at them in wonderment, I see that their vehicle is just as stuffed as mine. Which leads one easily to the conclusion, that if you have more room, you put something in it. So little Chevy Venture, I owe it to you that I pick and choose. Only take the essentials. No extra baggage. No extra display frou-frou. Stream-lined, that's the ticket.
(Can you smell the leap over to painting land?!) Yup. You know it. Just as less is more in the art of stuffing a Chevy Venture art van, it happens on the canvas too. We have to pick and choose. Carefully. No extra baggage. Leave out the unnecessary. Less is more. And all that. But you knew that, didn't you?! Thanks for stopping by.
Later, Cooper
and here's the current easel occupant, wondering if I will have the aha moment (hour)(day!) that get's it finished in time...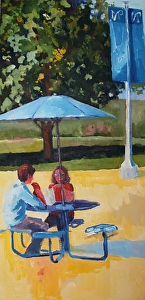 Sack Lunch, an acrylic painting with a ways to go before the signature :)