Blog
« I Am A Blog Reader. This Is A List Of My Demands: | Main | The Emperor's New Clothes, And Other Fairy Tales. »

Greetings,
Welcome to the Cooper studio, Jefferson, Iowa.
I am happy to tell you that I came home from Prairie Village Art Fair (Kansas City area of Kansas) with some paintings, but not nearly as many as I had when I started the adventure. Thank you Prairie Village art lovers!
Just before I pointed the art van south last week, I added two freshly completed paintings to my portfolio, but did not get a chance to post them here. One of them is now a Kansas resident, but I thought you'd enjoy seeing it here anyway.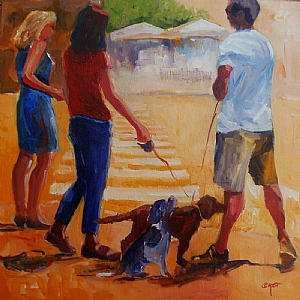 Sidewalk Conversations, an acrylic painting on a 20 x 20 inch canvas, and the new Kansas resident.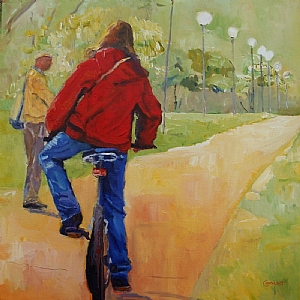 Riding In A Husker Hoodie On The Hancher Trail, an acrylic painting on a 24 x 24 inch canvas. I plan on exhibiting this painting at the Omaha (Nebraska) Summer Arts Festival this coming weekend, June 10, 11, and 12.
I showed this painting one of the day's of the Prairie Village event--a woman involved with the "Huskers in Kansas City" group (7000 people?!) stopped by and the title of this painting caught her eye. She appreciated it in the style of any good true Husker :) Hopefully a few people in Omaha will as well!
Later, Cooper
Topics:
about painting
|
acrylic painting
---
---
Comments