Greetings,

Welcome to the Cooper studio, Jefferson, Iowa. Today, we are talking about Christmas presents, sort of.
At a November art event where I exhibited my work, a husband & wife stopped by and talked in length, about paintings, and expecially about some charcoal sketches that I had matted for exhibit. Long story short, the wife came sneaking back a little later, with the "I want to buy that one for my husband's Christmas present". Yay! What fun! I love secrets! So we worked it out and the drawing now has a happy new home.
The husband wrote me an email recently, wanting to talk more about the drawing. I love when that happens too---because I know he loves the drawing.
And he asked a question I love as well. Maybe I should mention first, that when I did the drawing, I focused in on the model's hands. Nine times out of ten, the hands are the most expressive part of any human, right? And to get the composition of the hands just right on the page, sometimes you have to let other parts of the model go, right? In this case, the model lost out on the top of her forehead. Oh well. It just didn't seem important to the compostition, and I'm the one calling the shots :) So, his question: did I crop the drawing because there was an "oopsie" up there, or was it planned?
Here, I hedge. If the paper had been larger would I have changed the composition to include all of the model? Do I draw the model as large as I see it, or do I draw the model large enough to fill the paper?
Contemplation of all that leads me to write my belief that the important part is to determine the focus of the drawing, place it well on the page, and let the rest fall into place. It's all part of the process of editing what's in your vision field, right? Does a landscape artist make sure every tree he draws is completely on the page? And may I say the composition really doesn't care if what you're drawing is a tree or a human!
So did we muddle throught that well enough? Ha! A muddled discussion on focus, what a concept. But possibly it will all become crystal clear if I show you the drawing, eh? Here goes: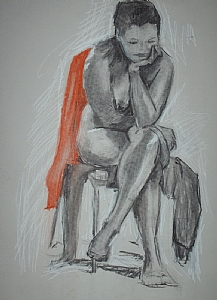 Thanks for stopping by!

Later, Cooper